Jeffrey Fleishman of the Los Angeles Times describes the assault on librarians by rightwing groups and parents who want to ban books. Across the country, but especially in red states, librarians are vilified as "the arm of Satan" by those who want to control what books are on the library shelves. If you want to read a concise summary of book-banning, read my book The Language Police, published by Knopf.
He writes:
In her time as a Texas school librarian, Carolyn Foote watched the image of her profession veer from "shrinking violets behind spectacles" cataloging titles to "pedophiles and groomers" out to pollute the minds of the nation's youth.
"Librarians came from a climate of being so appreciated to hearing this message that we're reviled," said Foote, co-founder of Freadom Fighters, an advocacy group for librarians that has nearly 15,000 Twitter followers. "It was an astonishing turn of events." A lot of librarians are asking themselves whether they want to remain in the profession, she added. "At least five people I know have retired early."
Once a comforting presence at story circle and book fairs, librarians have been condemned, bullied and drawn into battles over censorship as school and library boards face intensifying pressure from conservatives seeking to ban books exploring racial and LGBTQ themes. Those voices have grown stronger in red states since the pandemic, when parental groups opposed to mask mandates expanded their sights and became more involved in how and what their children were taught.
Recent polls suggest most Americans are not in favor of banning books. But concentrated pressure by politically connected parental groups, said Peter Bromberg, a board member at EveryLibrary, a nonprofit library advisory group, "has librarians facing a great deal of stress. There are signs on people's lawns calling librarians pedophiles." They face pressure from principals and administrators over book displays, and "neighbors talk about them being an arm of Satan."
The Patmos Library in Jamestown, Mich., which lost public funding after a campaign by conservatives, forcing it to rely on donations.
(Joshua Lott / Washington Post via Getty Images)
Some librarians are fighting back; others have lost or left their jobs. The culture wars over books come at a time when about 27% of public libraries have reduced staff because of budget cuts and other reasons, according to a 2021 national survey. Lessa Kanani'opua Pelayo-Lozado, president of the American Library Assn., said librarians' problems are compounded by attacks that are part of an effort "seeking to abolish diverse ideas and erode this country of freedom of expression. I see it as the dismantling of education."
::
A number of school board meetings in recent years have become explosive and emblematic of the country's political animosities. Parents yell, boo, shake fists and hold up sexually graphic images in dramas that play out on social media. Similar scenes have erupted at public libraries, including at the Patmos Library in western Michigan, where at least two librarians have quit amid pressure and harassment from residents demanding the removal of LGBTQ books and young adult graphic novels.
(Joshua Lott / Washington Post via Getty Images)
At the library's December board meeting, librarian Jean Reicher denounced critics a week after the building closed early over fears for the staff's safety. She said that signs around town labeled her a pedophile and that she'd received abusive phone calls and had iPhones pointed at her. Her emotional retort came a month after a campaign led by conservatives succeeded in defunding the library, forcing it to rely on donations.
"We have been threatened. We have been cursed," said Reicher. "How dare you people. You don't know me. You don't know anything about me. You have said I've sexualized your children. I'm grooming your children."
She raised her hands. Her anger welled.
"I have six grandkids out there," she said, ticking off the offenses aimed at her. "I moved to this town 2½ years ago, and I regret it every day for the last year. This has been horrible," she continued. "I wasn't raised this way. I believe in God. I'm a Catholic. I'm a Christian. I'm everything you are."
School and library boards are encountering demands from conservative lawmakers and parental groups, such as Moms for Liberty and Mama Bears Rising, and in a few instances the far-right extremist group the Proud Boys, to scour libraries of what they consider upsetting pornographic and LGBTQ depictions. Many conservatives criticize schools as overrun with progressive ideas that are confusing children about race and gender.
"By exposing our children to adult concepts such as gender identity we are asking them to carry a load that is much too heavy for them," Kit Hart, a Moms for Liberty member, said in a video posted last year from a school board meeting in Carroll County, Md. "A 10-year-old should not be reduced to his sexuality."
A video posted on the Moms for Liberty website shows another one of its members outlining her concerns at a public meeting in Mecklenburg, N.C.: "Parents beware of terms like social justice, diversity, equity, inclusion. Those inherently good things are being used to disguise a biased political agenda," she said. "Our schools are becoming indoctrination camps and a breeding ground for hatred and division."
Florida and other states have placed tougher restrictions on books that schools can stock. A Missouri law passed last year makes it a crime for a school to provide sexually explicit material to a student. After a discrimination complaint filed by the American Civil Liberties Union, the U.S. Education Department's Office for Civil Rights is investigating a Texas school district after a superintendent directed librarians to remove LGBTQ-related books.
"We have been thrown to the forefront of the cultural wars whether we want to be there or not," said Amanda Jones, a middle school librarian in Livingston Parish, La., who last year broke out in hives and fell into depression after she was threatened for speaking against censorship. "It's not fun to be vilified in your small town or the country at large. It's all related to their using political fear and outrage. And they're using children to do it."
Jones was skewered by conservative activists, including Citizens for a New Louisiana, after she warned at a library meeting that "hate and fear disguised as moral outrage have no place in Livingston Parish." A picture of her appeared online with a red circle around her head — resembling a target — and she was called a pig and a supporter of teaching anal sex to 11-year-olds. Someone suggested she should be slapped.
Martha Hickson, a high school librarian in Annandale, N.J., endured similar stress and said she lost 12 pounds in one week after she was accused by a parent at a school board meeting of being a groomer by providing graphic novels and memoirs, such as "Gender Queer" by Maia Kobabe and "Lawn Boy" by Jonathan Evison, that could influence children toward "heinous acts."
"What really stung was that my name was used in that context," said Hickson, 63,who in 2020 received the American Assn. of School Librarians' Intellectual Freedom Award. "It was devastating. I broke down and I couldn't stop crying." She couldn't catch her breath, she said, and "couldn't speak in full sentences. I cracked two teeth from grinding and was fitted with a night guard. I go to the pool now and swim three times a week. It washes the stress away."
Jessica Brassington, head of the Texas-based Mama Bears Rising, which advocates for increased parental oversight in education, said her intent is not to rebuke librarians or teachers but to get stricter state guidelines on selecting school books in what she sees as a broader war against her Christian faith.
"We want to protect our children. We've seen the dark side of what can happen beyond the book. Suicide. Alienation," said Brassington, whose organization has pressed for the removal of books in school districts and warned against children being indoctrinated by an "evil" sexual agenda. "We want to know what books are available to our children. … The parents are being bypassed."
::
Calls to ban certain books in schools have arisen for generations among liberal and conservative parents, educators and activist groups. Classics such as Mark Twain's "Adventures of Huckleberry Finn" and Maya Angelou's "I Know Why the Caged Bird Sings" have been pulled from reading lists. Books deemed to be obscene such as "The Catcher in the Rye" and "Tropic of Cancer" were censored for decades. In the 1980s, well-funded and organized groups like the Christian right Moral Majority condemned books on secular humanism.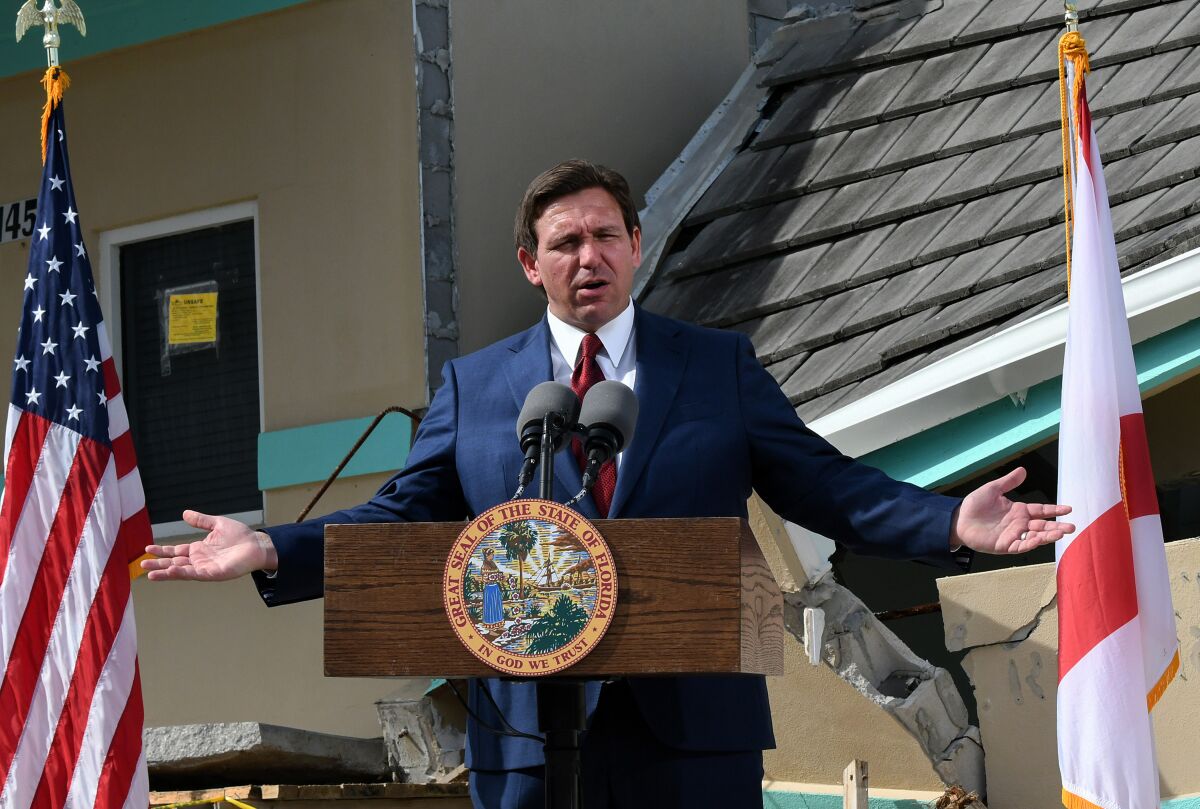 Florida Gov. Ron DeSantis has pushed laws to restrict school instruction on gender identity and sexual orientation.
(Paul Hennessy / SOPA Images/LightRocket via Getty Images)
Those battles echo today and have accelerated as religious conservatives and right-leaning politicians, including Florida Gov. Ron DeSantis, have backed bills to limit school instruction on gender identity and sexual orientation. Of the 1,648 titles banned in schools across the country in the 2021-22 school year, according to a PEN America study, 41% had prominent LGBTQ characters or explicitly explored LGBTQ themes.
"It's hard to compare this to anything other than the Red Scare in the 1950s," said Foote, a retired high school librarian of 29 years who was named a Champion of Change by President Obama. "There's nothing else remotely close to this."
Open the link and read the rest of the article. It might be behind a paywall. I subscribe to the Los Angeles Times. It's a terrific newspaper.