Christopher Mathias wrote at Huffington Post about a group called Dissident Homeschool that provides resources for parents who want to teach their children to be Nazis. Through research and inquiry, he found the names of the couple who administer the site. Many of the states enacting voucher plans include payments for homeschooling. If you live in one of those states, your tax dollars might be subsidizing the training of Nazis.
Please read the entire article. It's too long to repost in its entirety. It is awful that parents would do this, and worse that it is subsidized by public funds in many state voucher plans.
Mathias writes:
On Nov. 5, 2021, a married couple calling themselves "Mr. and Mrs. Saxon" appeared on the neo-Nazi podcast "Achtung Amerikaner" to plug a new project: a social media channel dedicated to helping American parents home-school their children.
"We are so deeply invested into making sure that that child becomes a wonderful Nazi," Mrs. Saxon told the podcast's host. "And by home-schooling, we're going to get that done."
The Saxons said they launched the "Dissident Homeschool" channel on Telegram after years of searching for and developing "Nazi-approved material" for their own home-schooled children — material they were eager to share.
The Dissident Homeschool channel — which now has nearly 2,500 subscribers — is replete with this material, including ready-made lesson plans authored by the Saxons on various subjects, like Confederate Gen. Robert E. Lee (a "grand role model for young, white men") and Martin Luther King Jr. ("the antithesis of our civilization and our people").
There are copywork assignments available for parents to print out, so that their children can learn cursive by writing out quotes from Adolf Hitler. There are recommended reading lists with bits of advice like "do not give them Jewish media content," and there are tips for ensuring that home-schooling parents are in "full compliance with the law" so that "the state" doesn't interfere.
The Saxons also frequently update their followers on their progress home-schooling their own children. In one since-deleted post to Telegram, they posted an audio message of their kids shouting "Sieg Heil" — the German phrase for "hail victory" that was used by the Nazis.
Over the past year, the Dissident Homeschool channel has become a community for like-minded fascists who see home schooling as integral to whites wresting control of America. The Saxons created this community while hiding behind a fake last name, but HuffPost has reviewed evidence indicating they are Logan and Katja Lawrence of Upper Sandusky, Ohio. Logan, until earlier this week, worked for his family's insurance company while Katja taught the kids at home.
The Anonymous Comrades Collective, a group of anti-fascist researchers, first uncovered evidence suggesting the Lawrences are behind Dissident Homeschool. HuffPost has verified the collective's research.
The Lawrences did not respond to repeated requests for comment made via phone calls, text messages and emails. A HuffPost reporter also left a message in the Dissident Homeschool channel asking Mr. and Mrs. Saxon for comment about the Anonymous Comrades Collective's research. That message was immediately deleted by the channel's administrators, who then disabled the channel's comment and chat functions.
A short time later, Katja Lawrence deleted her Facebook page.
Although the Lawrences will now surely face some public scorn and accountability, it's likely their neo-Nazi curriculum is legal. A concerted, decades-long campaign by right-wing Christian groups to deregulate home schooling has afforded parents wide latitude in how they teach their kids — even if that means indoctrinating them with explicit fascism.
Meanwhile major right-wing figures are increasingly promoting home schooling as a way to save children from alleged "wokeness" — or liberal ideas about race and gender — in public and private schools. As extreme as the Dissident Homeschool channel is, the propaganda it shares targeting the American education system is just a more explicit and crass articulation of talking points made by Fox News hosts or by major figures in the Republican Party.
"Without homeschooling our children," Mrs. Saxon once wrote, "our children are left defenseless to the schools and the Gay Afro Zionist scum that run them…."
Nazi Groomers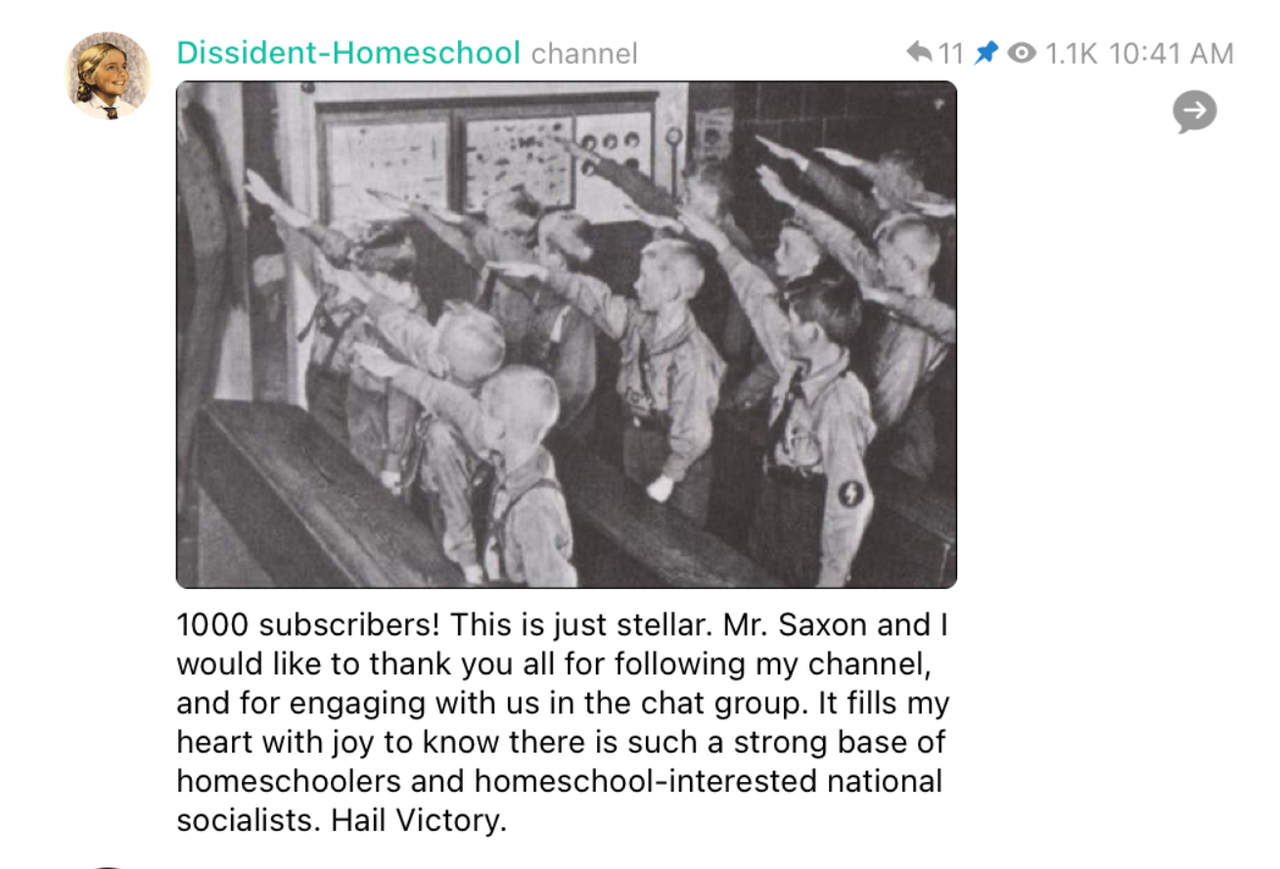 Mr. and Mrs. Saxon appeared to be thrilled to see their Dissident Homeschool channel gain a larger following. When the channel reached 1,000 subscribers, Mrs. Saxon posted a Nazi-era photo from Germany of uniformed schoolchildren throwing up fascist salutes. "It fills my heart with joy to know there is such a strong base of homeschoolers and homeschool-interested national socialists," she wrote to mark the occasion. "Hail victory."
Mrs. Saxon does the bulk of the posting in Dissident Homeschool, and developed extensive lesson plans that other neo-Nazi parents could use for their children. These lesson plans — about Christopher Columbus, the history of Thanksgiving and German Appreciation Day, as well as a "math assignment" about "crime statistics" that is meant to teach kids which "demographics to be cautious around" — are deeply racist.
One lesson plan about Martin Luther King Jr. tells parents to teach their kids that the revered civil rights leader was "a degenerate anti-white criminal whose life's work was to make it impossible for white communities to protect their own way of life and keep their people safe from black crime."
"Typically speaking," Mrs. Saxon wrote in a post, "whites build societies whereas blacks destroy them."
Included in the lesson plan is a copywork assignment for parents to print out, so that their kids can practice cursive while writing out a racist quote by George Lincoln Rockwell, the infamous American neo-Nazi.