Peter Greene turned his blog over to an experienced journalist who covered education in Philadelphia for years. What's the real story behind the outraged reaction by the charter lobby to "Abbott Elementary"?
Bill Hangley, Jr., is a free lance writer who worked the education beat in Philadelphia, and as such he has some thoughts about the charter scene in Philly as reflected through recent episodes of Abbott Elementary. I'm pleased to present his guest post on the subject.
Hangley writes:
America's school-choice lobby can relax: when ABC's Abbott Elementary returns this Wednesday [April 5], the plot will hinge on teacher qualifications, not charter school takeovers.

That's good news for a community that's used to being taken seriously – very seriously. Wherever charter supporters go, they usually have friends to defend their interests. But the choice lobby wasn't represented in the Abbott writers' room. Nobody stood in the way as the hit sitcom raked charters over the comedy coals, presenting them as cynical, counterproductive, and even absurd.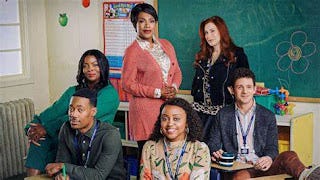 Unsurprisingly, the charter lobby didn't like what America saw. "No one likes being vilified," said Debbie Veney of the National Alliance for Public Charter Schools. "It's pathetic … to criticize the schools that succeed," tweeted Jeanne Allen of the Center for Education Reform.

As a journalist who covered Philadelphia's charters for years, I expected to see people like Veney and Allen vigorously defend their industry. That's what they're paid to do.

I just wish somebody would pay them to take a good hard look in the mirror. Because as merciless as the sitcom's portrayal of district-charter relations may have been, to me it looked far more accurate than charter supporters care to admit.

Admittedly, some might say I'm biased. As a reporter for WHYY News and the late, great Public School Notebook, I saw the ugly up close. In over a decade on the beat, I saw politicians meddle and school boards dissemble. I saw underperforming charters stay open while district-run schools shut down. I heard officials beg repeatedly for relief from costly charter payments that drain district budgets.

And I saw the real-life versions of the charter takeover featured in Abbott's recent episodes. The sitcom version was funny. The real-life version was downright cruel.

In what our school district dubbed the "Renaissance" process, Philadelphia asked school communities to pick sides and fight it out. What America just saw on television, I saw a decade ago in places like Steel Elementary and Muñoz-Marín Elementaryand Wister Elementary and Martin Luther King High.

It was brutal. Parents were asked to choose between imperfect schools they knew and blue-sky promises from well-dressed "providers" they'd never met. The resulting campaigns were every bit as impassioned and intrigue-riddled as any other Philadelphia election. I did my best to cover them fairly, and interviewed countless parents. Plenty were willing to consider a charter, for plenty of reasons.

But the question that came up most often: "If our school's not good enough, why don't they just fix our school?"

I had no answer, and the School District of Philadelphia never really did either.

That's what rings the most true for me about Abbott's charter episodes: the underlying absurdity of offering "choice" as a solution to an underfunded system. How do you fix one school by opening another? Especially when the old schools have to pay for new ones?
Please open the link and read the rest of his piece about how deeply ingrained charters have become in Philadelphia. it's no laughing matter, in light of how neglected and underfunded the public schools are.