This is a strange yet unsurprising story. A truck filled with 31 individuals was stopped in Idaho. The 31 were on their way to disrupt a gay pride parade in Idaho. The men arrested came from different states. I saw the article in the Houston Chronicle but it was widely reported. When I read it before, I decided not to post it. But then I realized it has a larger significance, as it signifies the normalization of extremism, that is, extremists who wear uniforms and show their faces instead of lurking in the shadows and muttering to themselves.
Why was this group converging on gays in Idaho, not in a city in their own states? I'm guessing that they expected little resistance in a deeply conservative state. If they had rioted in a big city like Houston, Chicago, Miami, or Los Angeles, the crowd would have far outnumbered them and resisted. That's my guess. What is truly alarming, aside from the fact that this riot was planned and might have turned violent, is that extremist groups like this are showing their faces. The emergence of QAnon, Proud Boys, Oath Keepers and other extremists as allies of one of the nation's two dominant political parties has encouraged open violence against marginalized groups. Will we soon see open KKK marches—oh, wait, we saw that in Charlottesville in 2017, with the torches but not the hoods. Trumpism—aka, white supremacy—used to be hidden under a rock. No more. Thank God they were arrested. In Idaho.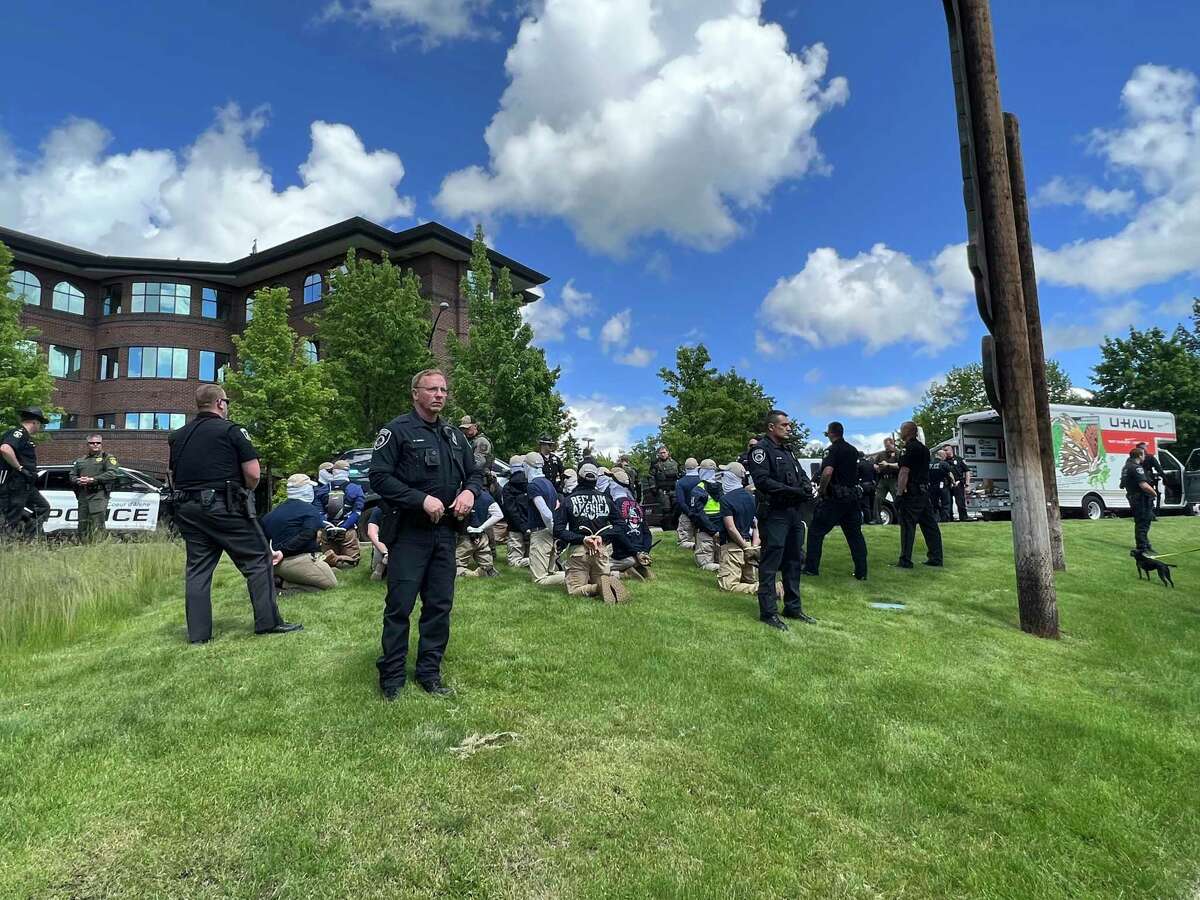 Texas residents were among 31 individuals affiliated with a white nationalist group arrested Saturday in Idaho on suspicion of conspiracy to riot after police there found them packed in a U-Haul truck apparently heading to a Pride celebration with riot gear and at least one smoke grenade, authorities said.
It was not clear by Saturday night how many of the individuals detained in Coeur d'Alene, a city in north Idaho about 33 miles east of Spokane, were from Texas or what part of the state they reside in. The others arrested, who were still being booked Saturday, were residents of Utah, Idaho, Colorado, South Dakota, Illinois, Arkansas, Wyoming, Washington, Oregon and Virginia, the city's police Chief Lee White said.
A person called authorities around 1:38 p.m. after seeing some 20 people jump into a truck wearing masks and carrying shields, looking "like a little Army." Police stopped the truck about 10 minutes later and arrested the 31 individuals, who appear to be affiliated with the group Patriot Front, White said, citing logos on their hats, similar outfits, insignia and at least one patch that said Patriot Front.
The Southern Poverty Law Center describes the group as a white nationalist hate group.