The entire student body and staff of Afghanistan's only girls' boarding school—about 250 people—managed to escape.

CNN reported:
"Last week, we completed the departure from Kabul of nearly 250 students, faculty, staff, and family members," said Shabana Basij-Rasikh, who co-founded the School of Leadership Afghanistan (SOLA) in the Afghan capital
"Everyone is en route, by way of Qatar, to the nation of Rwanda where we intend to begin a semester abroad for our entire student body," Basij-Rasikh stated in a series of tweets.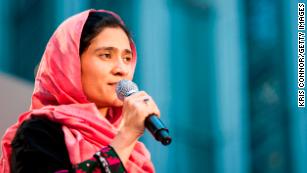 Shabana Basij-Rasikh speaks during the Girl Rising: A Rally for Girls and Women screening at The World Bank on April 18, 2013 in Washington, DC.
The school's president said she hoped they could all eventually go back. "Our resettlement is not permanent… When circumstances on the ground permit, we hope to return home to Afghanistan. For now, I request privacy for our community," she wrote.
Basij-Rasikh is highly decorated and co-founded the school while still a teenager, "with the mission of providing access to quality education for girls across her homeland," according to the school website.
The founder of the school is a remarkable young woman who finished high school in the United States, then graduated from Middlebury College in Vermont. She earned a master's degree from Oxford and received two honorary doctorates.