I reviewed A Wolf at the Schoolhouse Door in The New Republic. It is an important book that pulls together all the threads of the privatization movement and shows that their agenda is not to improve education or to advance equity but to destroy public education. The review is here.
Tonight, I will join the authors at a town hall Zoom meeting in Seattle at 9 p.m. EST, 6 p.m. PST. Please join us!
It begins like this:
Two years ago, Margaret Spellings, George W. Bush's secretary of education, and Arne Duncan, Barack Obama's secretary of education, wrote an opinion article in The Washington Post lamenting the decline of public support for the bipartisan consensus about education policy that began under Ronald Reagan. Elected officials strongly supported a regime of testing, accountability, and school choice, they wrote, but public enthusiasm was waning due to a lack of "courage" and "political will."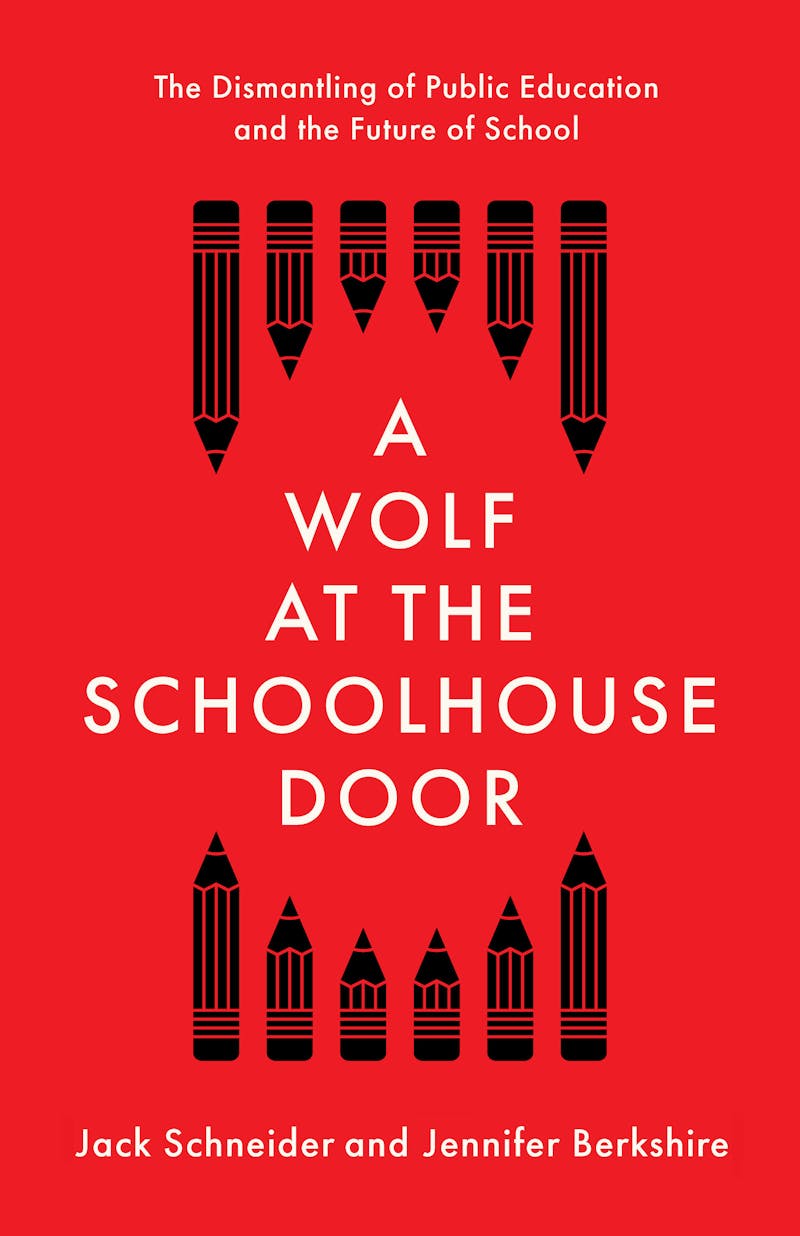 They were right. Elected officials, educators, and parents were rapidly losing faith in the bipartisan consensus. For a decade, it had failed to produce any improvement on national tests. Parents were opting their children out of the annual testing mandated by federal law; in New York, 20 percent of eligible students refused to take them. Teachers went to court to fight the test-based evaluation methods imposed by Duncan's Race to the Top. Communities from Los Angeles to Philadelphia were complaining about the growth of charter schools, which diverted funds away from public schools. A year after Spellings and Duncan's essay appeared, teachers across the nation, from West Virginia to California, went on strike to protest low wages, low funding, and large class sizes, issues that were ignored during the era of bipartisan consensus.
What went wrong? Why did the bipartisan consensus that Spellings and Duncan praised fall apart? In their new book, historian Jack Schneider and journalist Jennifer Berkshire provide a valuable guide to the history and the politics of the rise and fall of the bipartisan consensus. Theirs is indeed a cautionary tale, because they show how Republicans and Democrats joined to support failed policies whose ultimate goal was to eliminate public education and replace it with a free-market approach to schooling. Betsy DeVos was publicly reviled for her contemptuous attitudes toward public schools, but she was not an exception to the bipartisan consensus: She was its ultimate embodiment. She was the personification of the wolf at the schoolhouse door. 
Schneider and Berkshire write that they began the book to answer "a puzzling question: Why had conservative policy ideas, hatched decades ago and once languishing due to a lack of public and political support, suddenly roared back to life in the last five or so years?" Their prime example was private school vouchers, an idea first promoted by Ronald Reagan in the early 1980s and rejected at that time by Congress. Private school vouchers were not the only policy prescription that was recycled from the ashcan of failed ideas. There was also "market-based school choice, for-profit schools, virtual schools," and deregulation. These ideas were repackaged as innovative while their history and their conservative ideological origins were obscured. True believers, intent on eliminating public schools, built donor networks, cultivated political alliances, and churned out ready-made legislation. A key element in this network-building was the enlistment of billionaires who were enamored of free-market solutions and who opened their wallets to persuade national and state elected officials to inject competition and private-sector solutions into the public education system. 
This is a book you will want to read. Give it to your local school board members and your legislators.