ProPublica, in conjunction with the Idaho Statesman, took a close at schools in Idaho, which spends less on education than any other state. Conditions for teaching and learning are terrible, in large part because the state requires a 2/3 majority to pass a bond issue. Does Idaho care about the rising generation? Does it care about its future?
Jan Bayer sank into the couch in the family room of her Bonners Ferry, Idaho, home and stared at her phone, nervously awaiting a call. Her twin teenage daughters were nearby, equally anxious.
It was election night in March 2022, and Bayer, the superintendent of the Boundary County School District in a remote part of Idaho on the Canadian border, had spent months educating voters about a bond that would raise property taxes to replace one of her district's oldest and most dangerous buildings: Valley View Elementary School. Built just after World War II, the school was falling apart.
The walls were cracked. The pipes were disintegrating. The ceilings were water-stained. The electrical system was maxed out and the insulation was nearly nonexistent. Classrooms froze in the winter and baked in the summer. The roof, part of which had already collapsed once, was nearing the end of its lifespan. Outside, potholes pocked the parking lot and deep splits formed in warped sidewalks. The kindergarten playground, weathered from decades of brutal winters, had turned hazardous; at times, sharp screws protruded from some of the equipment, and kids routinely got splinters from the wooden crossbeams.
Most worrisome to Bayer and her staff: Kindergarten students had to cross a street multiple times a day just to navigate the sprawling six-building campus, a piecemeal attempt to add much-needed classroom space.
The bond promised to fix all that — if voters approved it.
"You're just honestly praying for a miracle," Bayer said. "I said a lot of prayers all day long, saying, 'OK, we can do this. We can do this.'"
At about 8:30 p.m., a call came in from the county clerk. More than 2,000 people voted, and about 54% of them supported the bond, the clerk said. Bayer's heart sank and she broke into tears. In Idaho, a majority wasn't enough. The state is one of just two in the nation that require support from two-thirds of voters to pass a bond.
Bayer shared the results with the school board, school staff and the facilities committee. Over the next several hours, she received calls and messages from community members. They told her to keep fighting. So she did. The district put another bond on the ballot in August, and students rallied to support it. On Election Day, the high school football team even stood on the bridge over the Kootenai River and held yellow signs that read "Vote Yes for Kids," hoping to persuade voters as they drove to the Boundary County Fairgrounds to cast their votes. But the second bond fared worse. Just over 40% of voters backed the new measure, which hit the ballot as residents received a notice that their property assessments were going to rise and voters were worried about tax increases. "It went down in a ball of flames," Bayer wrote to the school board.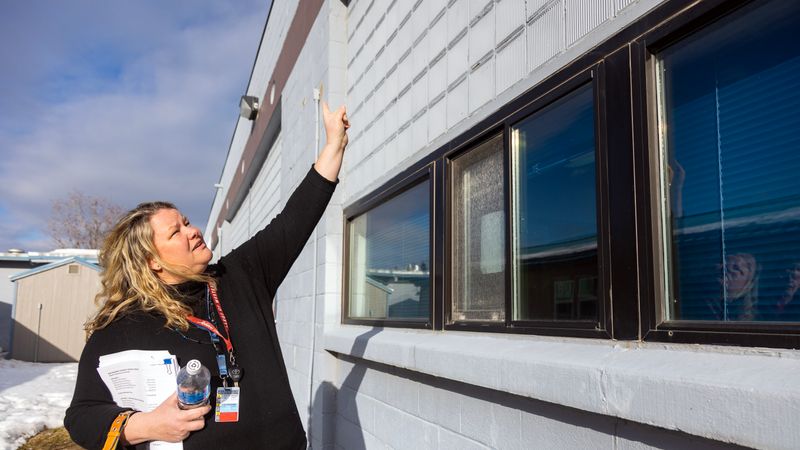 No other state spends less on education per student than Idaho, according to a recent report from the U.S. Census Bureau, which surveys and ranks school finance systems. It also ranks last in the nation in terms of school infrastructure spending per pupil, a state report shows. So over the past several decades, rural districts across the state have faced the same challenge as Bayer: To improve or replace aging — and sometimes dangerous — facilities, they must appeal to local taxpayers and clear some of the nation's most restrictive thresholds for school funding. Despite urgent needs, most of these efforts fail, an investigation by the Idaho Statesman and ProPublica has found. As a result, students across the state must learn amid dire conditions.
In one Idaho school, the foundation is crumbling. In another, so few bathrooms serve hundreds of kids that students have soiled themselves, according to school officials and local media. And in yet another, a portion of a roof recently failed during off-hours, sending water flooding into a classroom and bathrooms, destroying books and temporarily limiting learning space.
Since 2006, districts have mounted 217 bond attempts to remedy these types of problems and accommodate growing student populations. Had Idaho required only a majority of voters to support the measures — the threshold in most states — 83% of them would have passed. Instead, just 44% were approved, according to an analysis of bond measures and election data by the news organizations.
Please open the link and read this story. It makes you wonder whether the public cares about education and students. People complain about test scores but all too often they are unwilling to pay for an up-to-date school system. Charters and vouchers are a pointless diversion. They guarantee that the public schools attended by most students will be impoverished and under-resources.