Tuesday's school board election in New Hampshire was a triumph for parents and citizens who love their public schools!
This must have shocked Republican Governor Chris Sununu, the Republican-controlled legislature, and State Commissioner Frank Edelblut, who home-schooled his own children and is pushing a sweeping voucher plan for the state.
AfterGlenn Youngkin was elected Governor of Virginia by pandering to parents angry about "critical race theory," mask mandates, and eager to control what children learned and what books they read, the media bombarded us with stories predicting that Republicans would win next November by running against public schools.
New Hampshire families and citizens said on Election Day, "Not so fast! We love our public schools."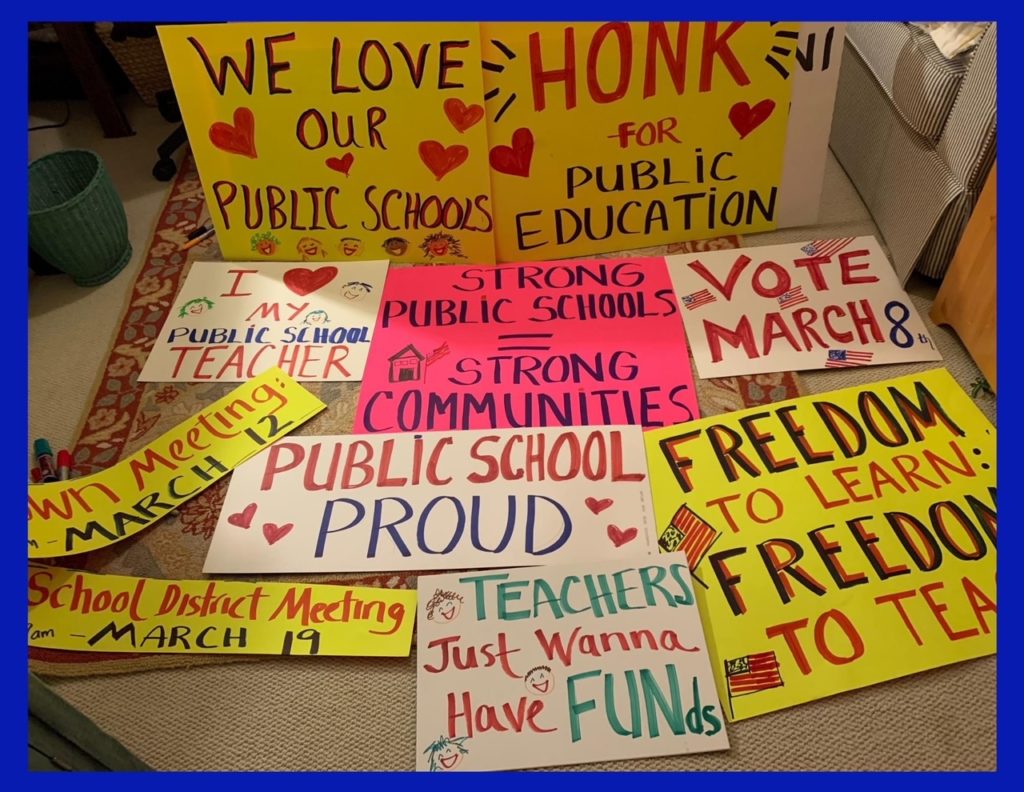 In first town elections since onslaught of attacks on public education and a honest, accurate education, voters send clear message that they support strong public schools and a honest, accurate education
CONCORD, NH – In race after race across New Hampshire on Town Meeting Day, concerned parents and community members in communities large and small successfully organized to elect pro-public education candidates and reject those seeking to dismantle public education and censor history.
"These results should raise serious doubts about any Republican 2022 election strategy that is built around pitting parents against local public schools and educators," said Zandra Rice Hawkins, Executive Director of Granite State Progress. "In nearly every school board race, Granite State voters chose out-spoken champions for public education and an honest, accurate, inclusive education. This is a big win for public schools and for our future. These leaders are committed to keeping our public schools strong and making sure every student's history and experience is valued."
The results from the election are all the more astounding for record-shattering voter turnout, and for the blatant differences between the candidates on everything from public education, COVID public health measures, and attempts to whitewash American history and censor educators. A priority list of school board results can be found here.
Key examples from around the state:
Merrimack Valley School District, home to some of the state's most vocal anti-vaccine, anti-mask, and classroom censorship activists, experienced a 56% increase in voter turnout from 2019, and supported public education candidates while also defeating a classroom censorship/anti-equity warrant resolution.
Bedford experienced a 36% increase in voter turnout and elected pro-public education candidate and teacher Andrea Campbell with 2832 votes, compared to 1293 votes for Sean Monroe, a candidate supported by right-wing organization Defend Our Kids, and 856 for incumbent John Schneller; both of whom supported efforts to censor teachers and ban conversations about race and racism in public schools.
Londonderry elected pro-public education candidates Amanda Butcher and Kevin Gray, defeating vocal anti-masker Rachel Killian (seen here harassing school board members during a public meeting). Voters also rejected a warrant resolution to make masks completely optional and the sole decision of parents instead of school leaders and public health experts; a significant decision given Gov. Sununu's recent decision to ban schools from enacting COVID public health measures like masks.
Governor Wentworth School District elected Republican State Rep. Brodie Deschaies over far-right activist Jessica Williams, who believes public schools are indoctrinating students and was arrested at a GWSD school board meeting on September 13, 2021.
Weare elected pro-public education candidates William "Bill" Politt and Alyssa Small, and passed full-day kindergarten; and Hollis elected pro-public education candidates Carryl Roy, Krista Whalan, and Holly Babcock.
Exeter and SAU 16 elected a full slate of pro-public education and honest education candidates, despite a nearly $20,000 effort by the opposition and months of voter mailings from those who oppose diversity, equity, and inclusion justice efforts in the school districts.
"We are in awe of how our communities have come together to protect and support public education," said Sarah Robinson, Education Justice Campaign Director for Granite State Progress. "Parents, students, educators, and community leaders have been working for months to organize, recruit strong candidates, and support pro-public education campaigns. Watching the results come in and knowing that so many public education champions are going to be serving in these roles gives us all hope. Our schools have been under constant attack from privatization schemes, neo-Nazi's, and of course Governor Sununu's statewide ban on a honest education. We all know that serving on a school board right now is challenging, and we thank these leaders for stepping up for our students. We hope the folks at the State House are paying attention, because this showdown will play out again in November unless they stop the attacks on our public schools."